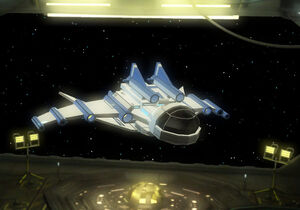 Rank 4 Arsenal.
upgrade to A3 Charon
very well-armed
balanced Archetype nodes
A scrap-yard scow with plenty of teeth, The Bandolier is a model of Centrian technology: crude, but lethal. The combat models have traded the ability to tow scrap for the ability to make it. The design mantra behind this hull: if it's not a weapon, it's wasted space.
Hull Information
Edit
Ad blocker interference detected!
Wikia is a free-to-use site that makes money from advertising. We have a modified experience for viewers using ad blockers

Wikia is not accessible if you've made further modifications. Remove the custom ad blocker rule(s) and the page will load as expected.