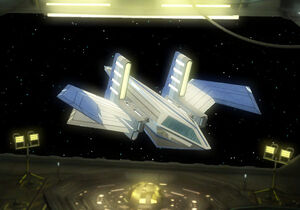 Rank 5 Arsenal and Grappler hybrid.
the crater maker
highly durable
balanced Archetype nodes
has Gravmag Platform (Grappler)
The A5G ATEN is named after a sun god in ancient Solarian mythology, but it's better known as "The Crater-Maker" to those that have seen it in action.  This imposing hull is designed for heavy engagement in the thick of an asteroid field or space fill.  It combines the mobility and manipulation of a Grappler with the fire power and deployment abilities of an Arsenal.  It is as versatile as it is durable.
Hull Information
Edit
Ad blocker interference detected!
Wikia is a free-to-use site that makes money from advertising. We have a modified experience for viewers using ad blockers

Wikia is not accessible if you've made further modifications. Remove the custom ad blocker rule(s) and the page will load as expected.