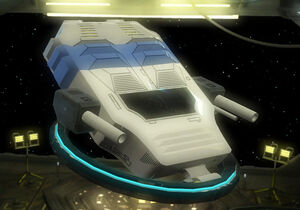 Rank 5 Arsenal.
the mobile army
very heavily armed
highly durable and resourceful
low mobility
focus on Heavy Weapons Bay
massive
If you're like the Centrians and think that military-grade turrets make cuddly pets, the Ring Raider is for you. Its cockpit is the headquarters of your own private, mobile army.
Hull Information
Edit
Ad blocker interference detected!
Wikia is a free-to-use site that makes money from advertising. We have a modified experience for viewers using ad blockers

Wikia is not accessible if you've made further modifications. Remove the custom ad blocker rule(s) and the page will load as expected.