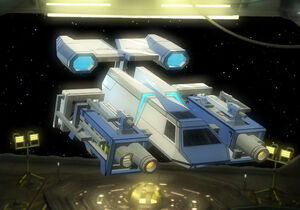 Rank 5 Arsenal.
the flying armory
very heavily armed
extremely durable
very low mobility
focus on Advanced Weapons Bay
focus on Pivot Platform
massive
Out beyond the Seventh Ring, in a band known as Wild Space, dwell creatures as massive as a gas giant. These "Jovians," as they're aptly called, are capable of devouring entire worlds and reorganizing star systems with their gravity wells as they pass.
The A5 Strata Gunship was designed to hunt Jovians.  Specialized shielding and propulsion allows them to plunge from the vacuum of space into the depths of the roiling oceans of acid and liquid metal that coat Jovian cores.  At this range, their unparalleled payload is enough to reduce the living giants into inert planets.
Hull Information
Edit
Ad blocker interference detected!
Wikia is a free-to-use site that makes money from advertising. We have a modified experience for viewers using ad blockers

Wikia is not accessible if you've made further modifications. Remove the custom ad blocker rule(s) and the page will load as expected.