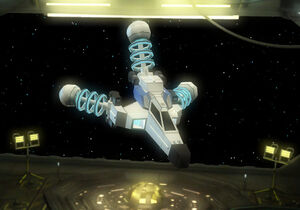 Rank 2 Caster.
upgrade to C1 Saruhaim
adds Dimensional Array
adds Mass Emitter
The Ternion is amongst the earliest model Casters still in operation. It predates the advent of anchor drives by over two centuries. It's estimated that there are over 10 million Ternions still in use today, a testament to the reliability of Sophian engineering and the thriftiness of Runners.
Hull Information
Edit
Ad blocker interference detected!
Wikia is a free-to-use site that makes money from advertising. We have a modified experience for viewers using ad blockers

Wikia is not accessible if you've made further modifications. Remove the custom ad blocker rule(s) and the page will load as expected.