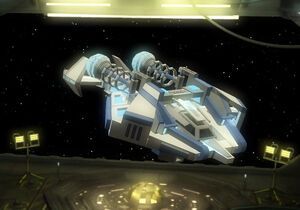 Rank 5 Caster and Arsenal hybrid.
the destroyer

durable and hard to kill

potentially mobile

mass destruction

focus on Advanced Weapons Bay (Arsenal)

has Heavy Weapons Bay (Arsenal)

no Mass Emitter
Built by the famed Dicot shipwright, Aozora Tsubasa, for Julius Mavenbolt, this ship was designed to fight a one-man war against The Consortium. Not surprisingly, it was Julius who named the hull.
Hull Information
Edit
Ad blocker interference detected!
Wikia is a free-to-use site that makes money from advertising. We have a modified experience for viewers using ad blockers

Wikia is not accessible if you've made further modifications. Remove the custom ad blocker rule(s) and the page will load as expected.