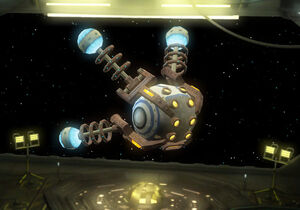 Rank 5 Caster.
the space wizard

mass destruction

potentially very mobile

potentially very durable

hard to kill and resourceful

balanced Archetype nodes
The C5 Squid represents the Caster archetype at its purest. If you're looking to get creative with time and space, this is your brush. Its iconic look has made it a symbol of Casters everywhere and something of a pin-up amongst lonely Skwellachi pilots. The Skwell typically assume the form of a cube when traveling abroad; they consider this a "business" shape. The sphere is considered a "pleasure" shape, which makes the C5 Squid hull a rather erotic object -- so much so that its image is commonly pixelated when appearing on daytime Skewllachi television.
Hull Information
Edit
Ad blocker interference detected!
Wikia is a free-to-use site that makes money from advertising. We have a modified experience for viewers using ad blockers

Wikia is not accessible if you've made further modifications. Remove the custom ad blocker rule(s) and the page will load as expected.