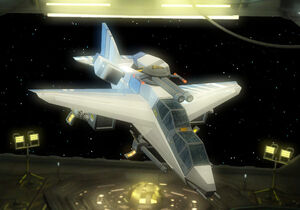 the battleship

designed for two pilots

extremely heavily armed

extremely durable

very low mobility

balanced Archetype nodes

massive
Centrians are not fond of battle cruisers. They don't care for ships with large crew complements because it means that not enough of them would be directly invovled in battle -- an arguable point, just don't argue it with a Centrian.
The Helion Gunship is Centrias' answer to battle cruisers. It packs nearly as much firepower as their larger counterparts and only divides the action between two crew members.
Hull Information
Edit
Ad blocker interference detected!
Wikia is a free-to-use site that makes money from advertising. We have a modified experience for viewers using ad blockers

Wikia is not accessible if you've made further modifications. Remove the custom ad blocker rule(s) and the page will load as expected.