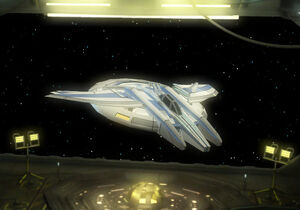 Rank 5 Rogue, Arsenal, and Caster hybrid.
When the Valoraphim royals had The R5A Atamal built, they claimed it was to defend from plunderers who pilfer holy relics and historical artifacts from the fresh asteroid field of their homeworld, Miraval. But the matrices of mines the Atamals deployed have complicated the approach of more than one Sophian ambassador's ship. The Consortium has been effectively kept from the dealings within the halls and palaces that still stand amongst the asteroids of Miraval.  "Let them rule in their lines and lines of mines on mines," conceded the Sophians, "and we shall govern them everywhere else."
Hull Information
Edit
Ad blocker interference detected!
Wikia is a free-to-use site that makes money from advertising. We have a modified experience for viewers using ad blockers

Wikia is not accessible if you've made further modifications. Remove the custom ad blocker rule(s) and the page will load as expected.